Virtual Reality enables the experience of artificially created and simulated environments. Via highly immersive 3D- and VR-technics and opportunities to interact the feeling of being nearly completely submerged in the presented situation is generated. This provides new opportunities difficult to implement in reality, as for example:
The simulation of dangerous or costly situations
Behavioral training with controllable gradations and any number of repetitions
Assessment and inspection of complex facilities using 3D-visualization for planning and demonstrations
Acquisition of behavioral data and perfect control of the situation including high ecological validity in empirical research. Further information under: "Virtual reality in psychological research" (German article)
VTplus offers specialized software for the use of virtual realities, as well as the development of virtual scenarios and individual development performances.
Virtual Reality Exposition systems
Complete VR-Systems to conduct VR-expositions and VR-data collection.
Fully integrated on medical cart
Control via touchscreen terminal
Head-mounted display, tracking position and orientation
Option of a wireless VR-operator
Option of an integrated physiology recorder
Support (user, hardware)
Virtual Reality Research System VT+Lab
With the Virtual Reality (VR) research system VT+Lab you receive a VR-System put together to your individual demands to create and conduct your own VR-studies. The offer includes:
VR-simulation software and creation tools

VR-technology (simulation, tracking, projection)

Support (user, developer, hardware)
Development of virtual environment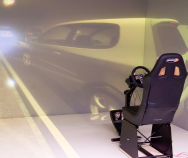 VTplus creates virtual environments, models and special effects to effectively depict real situations.
Creation of high-class materials (textures)
Generation of detailed models
Construction and modeling of environments
Investigation of efficacy and presence upon request